La intervención coronaria retrógrada de la oclusión total crónica (OTC) fue descrita por Hartzler y Kahn en 1990 y desde entonces ha evolucionado continuamente. Esta se da cuando el abordaje ocurre por la parte distal de la oclusión y con el flujo contralateral, donde la guía se posiciona en la dirección contraria al flujo original de la arteria.
El cruce de la lesión retrógrada puede ser más fácil, ya que, debido a la baja presión sanguínea local, generalmente el cap distal es menos rígido, tiene una probabilidad mayor de ser una oclusión con forma puntiaguda y la anatomía posiblemente es menos ambigua, facilitando la penetración de la guía.
¿Cuándo utilizar el abordaje retrógrado?
Cap proximal: Ambigüedad en la anatomía o ante la imposibilidad de cruzar la lesión por vía Anterógrada.
Lesión larga sin la identificación del trayecto de la OTC.
Zona de aterrizaje deficiente (landing zone pobre o enfermo).
Presencia de bifurcación en el vaso distal.
Cuando las colaterales y los injertos son propicios a ser utilizados.
A continuación, mostraremos los pasos principales para realizar esta técnica.
Enfoque a través del abordaje retrógrado en 13 pasos
1- Planificación
ACT: heparina no fraccionada 100 IU / Kg, con control cada 20 minutos, mantener > 350 segundos.
Vaso donante: Potencial para la interacción de los materiales por vía anterógrada y retrógrada. Control del catéter guía, ya que será avanzado hacia dentro del vaso cuando se haga la retirada de los materiales de las colaterales.
Sedación ligera.
2- Análisis de la angiografía:
Doble catéter a menos que sea colateral ipsilateral: mirar atentamente para posibles ramas a ser abordadas (ventricular posterior, descendente posterior, etc.).
Campos mayores de escopia: acceso a todas las conexiones potenciales.
Ver y revisar la película repetidamente para entender el trayecto, tortuosidades y ramas por las colaterales.
Grabaciones angiográficas largas para tener una mejor evaluación de la extensión de la OTC.
Septales
Es de primera opción, y son más seguras que las epicárdicas. Cuanto más rectas es mejor y la tortuosidad es una verdadera limitación. Sin embargo, se puede 'surfear' las colaterales, aunque éstas sean invisibles.
Epicárdicas
Su calibre es importante (mayor es mejor). La tortuosidad es un problema.
Puentes de safena
Riesgo de embolización distal y dificultad para redirigir el micro-catéter hacia la capa distal de la OTC.
Mamaria
Riesgo de disección (potencial catástrofe).
Evaluación del colateral ideal
Angulación de entrada y salida (> 90 grados), con conexiones claras, sin tortuosidades, buen calibre y sin bifurcaciones.
3- Selección del colateral con guía
Para acceder a la colateral se debe estar atento al tipo de la curva realizada en la punta de la guía, con dos curvas (mayor y menor). En caso de dificultad de acceso se pueden utilizar catéteres con dirección de la punta (Venture), Twin-pass o guías recubiertas con polímero.
4- Avance del micro-catéter
Las guías de elección para uso son las hidrofílicas y con angulación mayor de la punta (doble curvatura). Después del posicionamiento del micro-catéter en la parte proximal de la colateral se puede hacer la TIP INJECTION, con el propósito de definir el trayecto del colateral y evaluar las conexiones.
5- Cruzar colaterales con la guía
Dependiendo de la colateral abordada (septal, epicárdica, puente de safena, mamaria) se deben escoger las guías adecuadas de acuerdo con la anatomía del vaso y tipo de colateral. La técnica para cruzarse puede ser por navegación controlada de la guía o por la técnica de surf (solamente en septales). Se debe observar las curvas en la punta de las guías que generalmente son cortas de 1mm y angulación variable dependiendo de las curvas.
6- Cruzar los colaterales con micro-catéter:
Se puede reducir la dificultad con la utilización de catéteres de mayor calibre e introductores largos para dar más soporte al avance de los micro-catéteres, así como la utilización de balones anclajes y extensores de catéter (guideliner, guidezilla). La característica y los perfiles de los micro-catéteres también son muy importantes para tener éxito en cruzar las colaterales.
7- Colocar el micro hasta el cap distal de la OTC:
Se puede tener dificultad para avanzar el micro-catéter hasta el cap distal de la OTC debido a factores como la tortuosidad de las septales, calibre, soporte y etc.
Estas variables pueden transponerse con:
- El cambio por guías más rígidas, proporcionando mayor soporte.
- La realización del trapping wire con balón anterógrado.
- El cambio por diferentes micro-catéteres con perfiles más finos y con facilidad de rotación.
- Las colaterales septales pueden dilatarse con balones de bajo perfil 1.0-1.5mm a bajas presiones (4mm Hg), para facilitar el paso del micro-catéter.
8. Técnica para el abordaje de la lesión retrógrada:
Retrógrada con escalamiento de guías (RWE)
Intentar pasar la guía lumen to lumen.
El acceso retrógrado puede ser facilitado por un cap distal puntiagudo y menos duro (debido a una menor presión en la cap distal de la OTC).
El abordaje Retrógrado puede resolver la ambigüedad del cap proximal.
Disección retrógrada y reentrada o R CART o CART
Más segura y eficiente para segmentos largos.
Especialmente si el cuerpo de la OTC es indefinido.
Alternativa si RWE falla.
9- Posicionamiento de la guía retrógrada hacia dentro del catéter anterógrado:
Se puede hacer con mayor seguridad y facilidad con la utilización de los extensores de catéter (guidezilla y guideliner) o cuando la guía está en la aorta se utiliza un lazo.
Observación: Siempre evitar hacer el posicionamiento del lazo en la parte dura de las guías, debido al posible trauma que haría en las colaterales. En caso de necesidad, hacer la retirada del mismo por vía retrógrada.
10- Externalización de la guía:
Para hacer la externalización de la guía retrógrada se debe avanzar el microcateter (150 o 155 cm) dentro del catéter anterógrado, pudiendo ser con la utilización de lazos o con la utilización de la técnica de dilatación cuando se tiene dificultad para avanzar el microcateter a través de la lesión. Con el uso de los lazos se consigue mayor soporte. Después del posicionamiento del microcateter dentro del catéter anterógrado, se realiza el cambio por guías dedicados R350 o RG3, o en la ausencia de los mismos se hace uso de la rotawire. Para externalizar la guía por la válvula hemostática, el cuerpo del catéter se pinza y luego a través del pasador de cuerda posicionado en la válvula se externaliza el mismo para la futura utilización de los dispositivos por vía anterógrada.
11- Preparar la lesión y los métodos de imagen:
Después de la dilatación de las lesiones, el uso de IVUS coronario es valioso para la evaluación de la extensión de la lesión, la presencia de calcificación, en el análisis minucioso de hematomas, segmentos con trayecto subintimal y evaluación del tamaño del vaso para planear el implante de los stents.
12- Implante óptimo de los stents:
Se puede realizar después del uso previo del método de imagen (IVUS) o posterior al implante, pudiéndose utilizar IVUS u OTC. Observar presencia de hematomas o espasmo.
13- Retirada de las guías y catéteres retrógrados:
Se debe hacer siempre primero la retirada del catéter utilizado para el abordaje retrógrado, debido al avance del mismo hacia dentro de la arteria cuando se tira del micro-catéter retrógrado pudiendo ocasionar complicaciones graves como la disección de la arteria donante.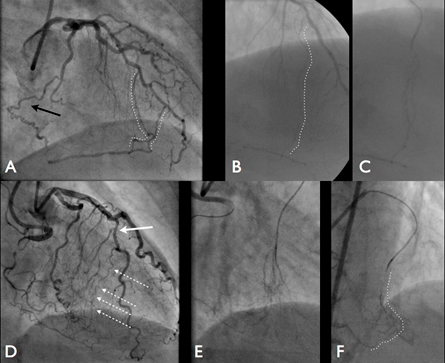 Análisis de los colaterales
Referencias Bibliográficas
1 Brilakis ES, Grantham JÁ, Thompson CA, et al. The retrograde approach to coronary artery chronic total occlusions: a practical approach. Catheter Cardiovasc Interv 2012;79:3-19.
2 Kahn JK, Hartzler GO. Retrograde coronary angioplasty of isolated arterial segments through saphenous vein bypass grafts. Cathet Cardiovasc Diagn 1990;20:88-93.
3 Kumar SS, Kaplan B. Chronic total occlusion angioplasty through supplying collaterals. Catheter Cardiovasc Interv 2006;68:914-6.
4 Thompson CA, Jayne JE, Robb JF, et al. Retrograde techniques and the impact of operator volume on percutaneous intervention for coronary chronic total occlusions an early U.S. experience. JACC Cardiovasc Interv 2009;2:834-42.
5 Karmpaliotis D, Karatasakis A, Alaswad K, et al. Outcomes with the of the retrograde approach for coronary chronic total occlusion interventions in a contemporary multicenter US registry. Circ Cardiovasc Interv 2016:9.
6 Saito S. Different Strategies of retrograde approach in coronary angioplasty for chronic total occlusion. Catheter Cardiovasc Interv 2008;71:8-19.
7 Alshamsi A, Bouhzam N, Boudou N. Cutting balloon in reverse CART technique for recanalization of chronic coronary total occlusion. J Invasive Cardilol 2014;26:E115-6.
8 Mozid AM, Davies JR, Spratt JC. The utility of a guideliner catheter in retrograde percutaneous coronary intervention of a chronic total occlusion with reverse cart-the "capture" technique. Catheter Cardiovasc Interv 2014;83:929-32.
9 Wilson WM, Walsh SJ, Yan AT, et al. Hybrid approach improves success of chronic total occlusion angioplasty. Heart 2016;102:1486-93.
10 Werner GS, Coenen A, Tischer KH. Periprocedural ischaemia during recanalisation of chronic total coronary occlusions: the influence of the transcollateral retrograde approach. EuroIntervention 2014;10:799-805.
En esta edición